Our History
When Lake Charles Copy opened its doors on July 1st, 1972, we were an authorized A.B. Dick franchise selling printing equipment and supplies. A.B. Dick was a printing equipment corporation that only had corporate stores at the time that our founder Keith Woodard Sr., worked for in Houston, Texas. The 1970's was a time in history that brought along the plain paper copier/printer as we know it today. This was a great time in history where an office could have a piece of equipment that you could lay an original on the glass and push a button to receive a copy instantly. As the industry transition into plain paper copiers began, we became an authorized Sharp copier dealership in 1977. Lake Charles Copy sold some of the first plain paper copiers to ever be seen in our area. 
Over the years we have endured changes in technology. We have also endured several hurricanes and a global pandemic. But at Lake Charles Copy, one thing has never changed to provide great quality equipment and back it with great service that NO ONE CAN COPY.
Our Company
We, at Lake Charles Copy can handle all your Document Solutions needs. We are totally focused on you, our customers, to ensure that your needs are always met. Find out what others have known for over 50 years, at Lake Charles Copy customers are our first priority.
Lake Charles Copy is a third generation family owned business that takes pride in supplying Southwest Louisiana with quality products and service since 1972. We are now in our fifth decade of business and are looking forward to continue providing our customers with the service they deserve.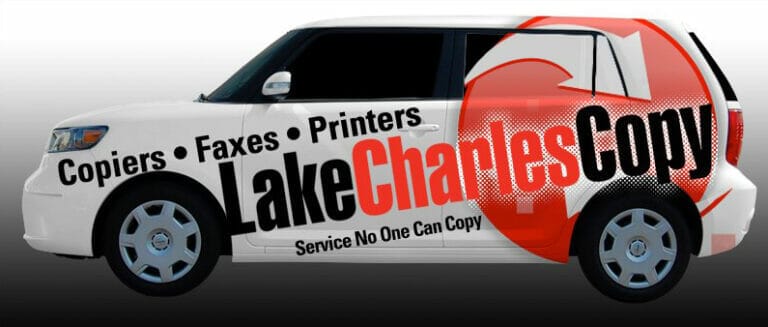 Lake Charles has long partnered with Sharp Electronics Corporation. Sharp has been  long recognized for its award winning products, and continues to maintain a coveted reputation for superior performance, reliability and affordability in the field of office equipment and document management. Lake Charles Copy's personal service, combined with Sharp digital Copiers and Printers, provide a logical solution for your office document needs. In order to provide our excellent service to our customers, we have a fully stocked warehouse located in the heart of Lake Charles. We also have a large fleet of vehicles in order to service or deliver your equipment in a timely manner.
When choosing Lake Charles Copy as your service company you can be confident that you'll be receiving the highest quality service. All of our technicians are factory trained and certified and are locally dispatched to your site in a short 2 to 4 hour response time. We also provide on-going product training to ensure maximum product performance and productivity. Looking for a new copier, color copier or printer? Call us at Lake Charles Copy to schedule an appointment to come by our new location and check out our state of the art showroom
Our hours are from 8:00 a.m. to 5:00 p.m. Monday thru Friday.
Lake Charles Copy, we have

"Service No One Can Copy!"